The Secret to a Successful Activation or Event? Brand Logistics!
Sales outsourcing
Events
Brand Activations
As a manager of a brand or company, our goal is to engage the audience through brand activation or events. Your audience becomes enthusiastic through an original concept, interactive animations, or a pleasant atmosphere. But there's more! Success lies in the details, with a successful execution and flawless logistical and organizational follow-up. Have you thought about a reliable logistics partner who takes care of everything? A partner who knows your brand inside out and functions as an integral part of your team?
1. Flawless Execution
One of the most noticeable benefits of collaborating with a reliable brand logistics partner is the guarantee of flawless execution. They have the expertise and experience to ensure that every aspect of your activation or event runs smoothly, from setting up the location to dismantling the installations. With their thorough planning and attention to detail, you don't have to worry about last-minute challenges that could consume your valuable time and energy. Laurent Perrier relies on Panama to manage its event and activation materials, delivering them to events on time at the customer's request. After use, the materials are cleaned, repaired if necessary, and stored again for the next outing!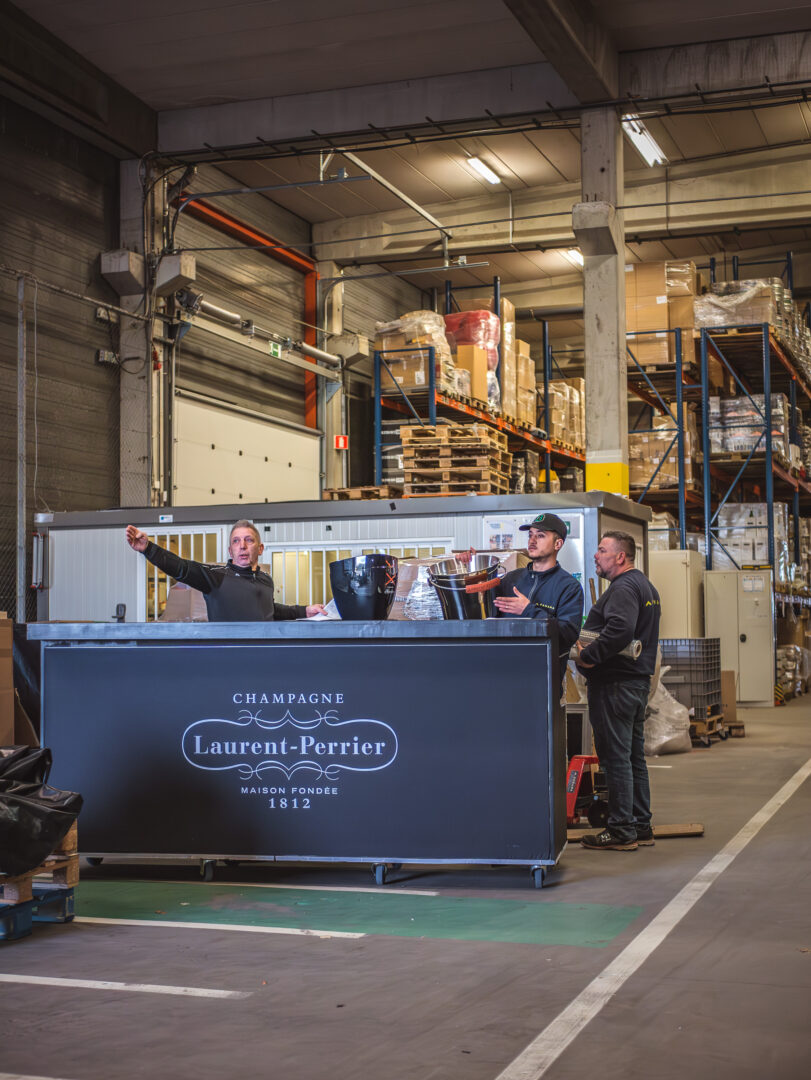 2. Cost Savings
Managing costs is a crucial aspect of activation or event planning, and a good logistics partner can help you manage costs more efficiently. They have the knowledge to optimize the necessary resources, ensuring you get more value for your money. Whether it's renting equipment, transportation costs, or staffing, they help you balance the budget without compromising on quality. For instance, Panama has over 20 years of experience in recruiting and training hosts/hostesses and brand ambassadors. An enthusiastic team with knowledge of your brand ensures that every activation or event conveys the right message and warms the end customer to your brand.
3. Time Savings
Activation and event planning require a lot of time and effort, but with a logistics partner by your side, you can save valuable time. While they handle the operational details, you can focus on strategy and creativity. This ensures that your event or brand activation is not only well-executed but also gives you the space to innovate and promote your brand in unique ways. For its year-end activation, Orange relies on Panama's logistics team to bring "Christmas with Orange" to life in more than 120 POS locations! From setting up and decorating Christmas trees to designing and producing in-store activation stands, the Panama team is ready. Throughout the year, Panama's logistics team also delivers the right POS materials to Orange stores as needed.
4. Reliability
The ability to trust your logistics partner is invaluable. They are committed to delivering results and will always be there to meet your expectations. By building a relationship with a reliable partner, you can have peace of mind, knowing that they always have your back and are ready to act, even in emergencies. Panama's logistics crew knows its brands inside out and has over 4000 square meters at their disposal to address customer inquiries. For example, the Duvel brand has a chilled storage area in our warehouse to have fresh drinks ready for Duvel tasting activations.
5. Problem Solvers
Life is unpredictable, and even with the best planning, unexpected challenges can arise during an event or brand activation. This is where the value of a logistics partner comes in. They are experienced problem solvers who can respond quickly and efficiently to unforeseen circumstances. Whether it's technical glitches, logistics issues, or weather conditions, they have the skills and resources to provide solutions and keep the show running. Thanks to an extensive and flexible logistics fleet, Panama, for example, can switch gears last minute and quickly deliver POS materials.
In summary, carefully consider the choice of a reliable logistics partner to elevate your plans to a higher level and increase your peace of mind. Still not convinced of this secret weapon? Contact the Panama team. We are happy to discuss your brand's challenges via info@panamaactivations.be or info@panamaevents.be.